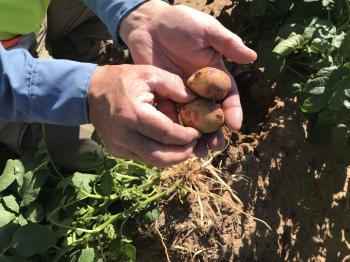 ..
Environment
The Center is within a semi-arid environment. According to the Annual Progress Report, the Center's mean annual precipitation is 8.1 inches based on recorded weather data from January 1969 through December 2008. The mean monthly average maximum air temperature is 66.5 degrees and the mean monthly average minimum air temperature is 38.8 degrees. In 2008, the average mean frost-free period was 162.0 days, from May 3 to October 13. There are four soil orders within the Center ranging from sandy loam to loamy sand (59-83% Sand) having a pH of 7.8 (Anderson, 1970).
Of the 254 acres comprising the Agricultural Science Center, 170 acres are under cultivation. Over 100 crops have been grown on the Center, since its inception in 1966. Many crops, which produce well in northwestern New Mexico, are not grown in the area because of market prices at the time of harvest, high distribution costs, personnel unfamiliar with production practices etc. Currently, the research plots are irrigated via center pivots, solid set, side roll and surface drip irrigation systems. Historically, irrigation systems also included flood but it was impractical for the Center's sandy soils.

Crop research, at the Center, was instrumental in establishing varieties for the Navajo Agricultural Products Industry (NAPI) and for the Four Corners region agricultural producers. Variety and agronomic research for agricultural producers remains a vital part of the Center's mission.

Historically, research has included crops, such as winter and spring wheat, winter and spring barley, oats, corn, alfalfa and crambe. Dry bean variety and management trials, including row-spacing and management for white mold control, were conducted at the Center. Fertilizer-type/placement trials and herbicide-type/application trials have been carried out with potatoes, corn cereal grain and dry beans, in various rotations.

Previously evaluated alternative crops included soybeans, safflower, kenaf, licorice, buckwheat, sugarbeets, canola (Rape), rye, triticale, sorghum, sunflower, amaranth, pasture and other minor acreage crops, such as carrots for seed production. Agronomic work has also been conducted in no-till plots and clean-tilled areas, as well as intercropping dry bean and soybean, in spring wheat.

Weed research has included pre-plant, preemergence and post-emergence application of herbicides for grass and broadleaf control in alfalfa, corn, wheat, beans, potatoes, onion, carrot and pumpkin. Important areas of study have included leaching associated with herbicides and potential for contaminating drainage water, which affects future crop productivity and ground water draining into the San Juan Basin. Past areas of entomological study have included the control of corn ear worm, apple codling moth and Russian wheat aphid.

Water research has determined consumptive use indexes and efficient water application strategies on crops, such as tomato, chile, potatoes, winter and spring grains, beans, corn alfalfa, pasture and buffalo gourd. Turf research for low water-use lawns included blue grass variety trials, buffalo and blue grama. Horticultural crops evaluated for water consumption and varieties included, chile pepper, lettuce, tomato, green bean, onion, apple, pear, peach, nectarine, cherry, grape, cucumber, pea, pumpkin, winter and summer squash, and Christmas trees.

Presently, the major research emphasis is on variety and other adaptive or production research, weed control crop fertility, irrigation and consumptive-use, herbicide persistence and leaching, and other varied areas of research. Current research is being conducted on alfalfa, corn, dry beans, potatoes, onions, chile, pasture grass, winter wheat, spring oats, sunflower, canola, hops, table and wine grapes, and poplar trees.

Water application research includes determining water-use production functions of the primary crops, in the area. This project includes developing and evaluating formulae to predict water application and consumptive-use of crops and turfgrass. An eight-acre drip irrigation system will allow the comparison of consumptive-use and water-use efficiencies of economically important crops under sprinkler and micro irrigation systems.

Since the mid 1960's, average county yields of alfalfa have increased from three to more than five tons per acre; corn has gone from 55 to 140 bushels per acre and wheat from 35 to 90 bushels per acre. Potatoes have become an increasingly important crop. With new acreage being put into production each year, new research initiatives are needed primarily in the areas of high value crops, irrigation management, herbicide use, and soils.
Buildings on the Center include an office and laboratory building with eight offices, conference room, archive library, head house with attached greenhouse. There is a three bedroom residence with attached garage.

There are four metal buildings. The first building is 100 ft x 40 ft with a shop, small office and restroom, in the south 40 ft x 40 ft bay and 60 ft x 40 ft north bay for machine storage. The second building is 60 ft x 20 ft with three 20 ft x 20 ft sections. It is used for seed, fertilizer and small equipment storage. The third building is a 20 ft x 60 ft open front machinery storage shed. The fourth is a 20 ft x 30 ft chemical storage facility.

The Center has two units available for visiting researcher housing. The mobile trailer has two bedrooms with double occupancy in each room. It also contains two full baths, living room and dining/kitchen equipped with furnishings, stove and refrigerator. Visiting researchers are to provide their own bed and bath linens.

The seasonal camper has a maximum sleeping capacity of four. It has one bedroom plus a convertible living/dining/kitchen area, to accommodate two additional sleepers. The unit is equipped with a shower/bath, stove and refrigerator. Visiting researchers are to provided their own bed and bath linens.

Office, laboratory, greenhouse and irrigated field plots are available to resident and visiting technical personnel. Graduate students may participate in the program.
Irrigated Lands
The Center receives water from the Navajo Agricultural Products Industry (NAPI). Total irrigation for NAPI comprises about fifty percent of the 150,000 acres of irrigated land in San Juan County. Future development will expand NAPI to over 100,000 acres. Irrigated acreage in San Juan County is increasing and when all projects being planned and completed, acreage will climb from 150,000 to approximately 240,000 acres.

While the major irrigated crop land for northwestern New Mexico is in San Juan County, small parcels of irrigated lands are also found in two adjoining counties, McKinley and Rio Arriba. These three counties have about 1,800 farms with 198,000 acres of irrigated and 11,000 acres of dryland farming. San Juan County ranks second in the state for irrigated cropland with 150,000 acres or 10% of the state total.

Cash receipts from crop and livestock production in the three-county area is about $96,000,000 annually, with 50% from livestock sales and 50% from crops. In 1997, San Juan County ranked eighth, in cash receipts, for all farm commodities. The combined three counties produced 5.7% of the $1.9 billion cash receipts from all agricultural commodities in New Mexico.