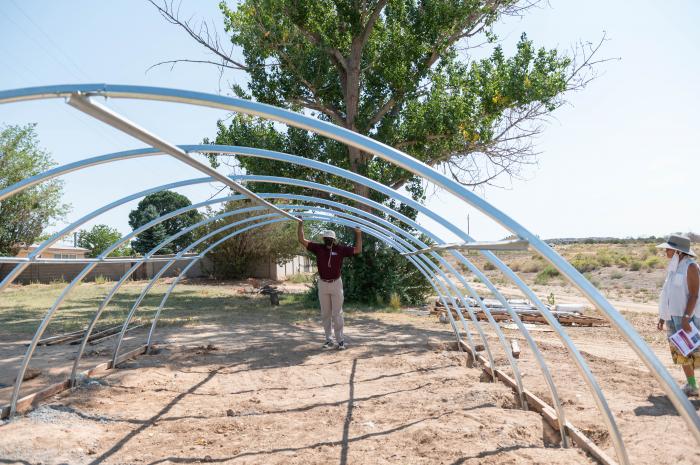 Mission
The mission of the New Mexico State University Agricultural Science Center at Farmington is to conduct research, demonstration, and educational programs that will best fill the needs of the agricultural community of San Juan County and the Navajo Nation in particular, and the State of New Mexico, Four Corners Region, and United States in general. -1968 Charter
Five Year Strategic Plan
Annual Report
Business Hours
NMSU's Agricultural Science Center - Farmington
8:00 a.m. to 4:30 p.m.
Monday - Friday, except holidays.
Open to the public under Navajo Nation mask and social distancing requirements. Appointments are also available if needed.
NMSU Website Template Larger View
Patrons of this website with difficulty reading the page content can increase the browser view. Located on the browser menu bar at the top right of the screen there are several browser preset icons. Click on the 3-bar or 3-dot icon. A drop down menu will appear. Select the + on the Zoom tab to increase the screen view size. If there is no icon on your browser menu bar, right click any where on the menu bar and use the Customize function to add the icon to the browser menu bar.
Upcoming Events
Shiprock Field Day
The Farmington ASC is hosting a mini Field Day on June 7th from 9:00 AM to Noon. See the above document for more information.
2022 Annual Field Day

The 2022 Annual Field Day at Farmington takes place July 15th. See the full schedule linked above.
Social Media
 Horticulture and Health in Northwest New Mexico

 Impact Report
---
Contact Information
Dr. Kevin A. Lombard, Superintendent
NMSU Agricultural Science Center - Farmington
PO Box 1018
Farmington, NM 87499-1018
Phone: 505-960-7757
Fax: 505-960-5246
Email: klombard@nmsu.edu
UPS or FedEx Shipping Address
(Name of Recipient)
NMSU Agricultural Science Center - Farmington
300 County Road 4063
Farmington NM 87401